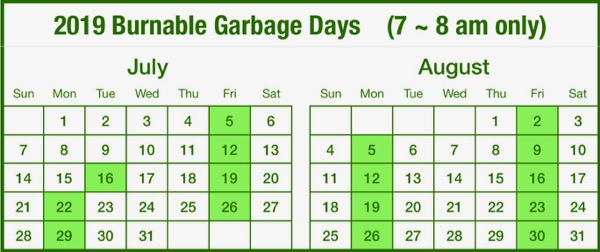 BURNABLE household garbage collection sites:

East Gate
West Gate
Business Office

*** NOTE that there will be no huts for burnable garbage.

BURNABLE household garbage:

Garbage must be in either 15 liter or 30 liter Shinanomachi regulation bags . By buying these bags(可燃ごみ指定袋), we share the collection expense with Shinanomachi. If garbage is not in these bags, it will not be collected.
Collection in 2019 starts July 16 (Tue. due to the holiday) and ends Aug. 30.
The Shinanomachi Incinerator was closed in March 2019. Any off-season burnable garbage must be taken home.
It is very important that all burnable garbage be brought to the collection sites between 7:00 and 8:00 am on collection day.
If you cannot bring your garbage at the designated time, please take it back home or make arrangements with a neighbor or friend.

Click here to see examples on the Garbage Index page.