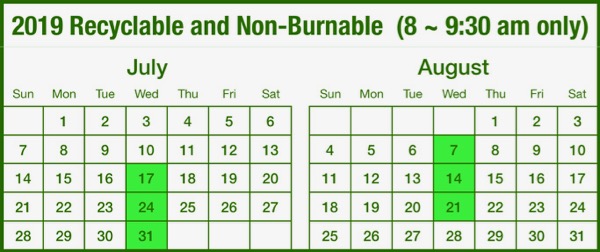 RECYCLABLE and NON-BURNABLE collection sites:

East Gate
West Rotary
Business Office

RECYCLABLE (aluminum / steel cans, glass bottles, pet bottles, pura, cardboard)

CANS (rinsed out and not-crushed) can be put into orange bins.
GLASS must to be rinsed out, cap/lids removed, and put into box according to color. Unclean bottles or jars will not be accepted.
PET BOTTLES have to be rinsed out and labels removed.
Unclean glass bottles and cans cannot be recycled. Put in NON-BURNABLE category.
"PURA for recycle" must be clean and dry and in a Shinanomachi regulation bag (clear with blue lettering). If wet/dirty or uncertain, please put it into burnable garbage bag. ( 'Pura' will be accepted at only one of the three sites: the Business Office. )

NON-BURNABLE (Not Recyclable)

Non-burnable garbage must be placed in a Shinanomachi regulation bag (clear with red lettering) and the bag must be tied closed.
Clean and empty paint/varnish/creosote cans can be placed with non-burnable garbage, but all dirty or half used cans should be taken home or arrangement made for disposal with a hardware store.
If in doubt, please check with the business office or a garbage monitor.
Most electrical appliances are unacceptable.
Garbage bags must be tied closed. If the garbage doesn't fit entirely in the bag, please do not bring it.

Click here to see examples on the Garbage Index page.